Chemically Altered Film
It was almost a year ago to the date that we featured the work of photographer Matther Cetta. In a series titled Photogenic Alchemy, he took rolls of film he had photographed with his toy camera and developed them in a number of strange ingredients — from Drano to Pepto Bismol.
The conglomeration of chemicals used throughout the series gave each photograph a unique look that couldn't be replicated any other way; and now, he's hoping to take this aesthetic public with some help from crowdfunding platform Kickstarter.
Called Flim – Bringing a New Life to Film, Cetta's goal is to crowdfund the mass-production of these unique rolls of film. After ordering film in bulk, Cetta is taking it upon himself to create individual batches that have been tweaked with the same chemicals he used in Photogenic Alchemy. Ultimately, the goal is to create an online store where daring photographers can buy these strange rolls of 'ruined' 35mm film.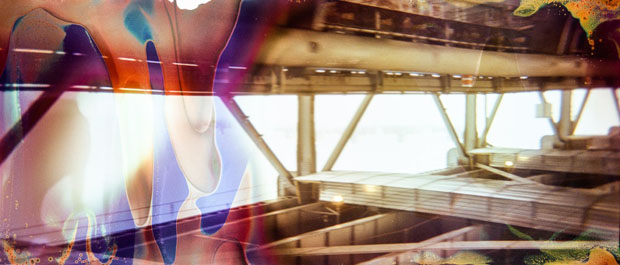 It's an interesting endeavor, taking a more extreme approach than previous 'specialty films' sold by sites and communities such as Lomography, but we have to say, the lack of information has us a bit concerned.
Even after reading over every word of the Kickstarter information, there are a number of questions that readers will likely have… fairly important questions.
First off, other than mentioning 35mm film once, there's no definitive answer on what film formats Cetta is looking to utilize for this project. Also, there's no mention of a specific ISO rating or film stock.
Another concerning factor is the lack of any branding or marketing plan we could make out.
According to Cetta, a portion of the $10k he's looking to raise on Kickstarter will go towards branding and marketing specialists. But for a campaign where the smallest pledge you can make to receive the product is $50, you'd expect a more definitive outline of what it is will come of the idea if it is to be funded.
There seem to be as many questions created as there are answers given in the Kickstarter campaign, but that doesn't diminish the interest factor of Flim too much. We would just love to see a more solid roadmap and plan for this project, which clearly has some serious potential.
Warnings aside, you can head on over to the Flim Kickstarter campaign to read more into the project and see if you'd like to make a pledge. Right now, the campaign has only raised just under $400 of its $10k goal, but there's plenty of time left for that to change.